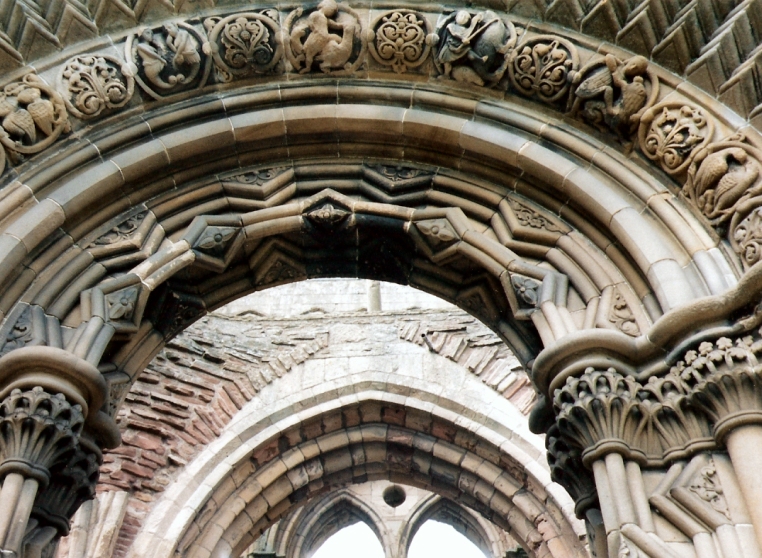 Jedburgh Abbey
Borders, Scotland
Jedburgh Abbey was founded as a priory in 1137 after Bishop John's return to Scotland from two years spent at the Benedictine house of Tiron, near Chartres. David I, of Scotland, and Bishop John were both genuinely pious and lived during the time that the church in Europe was undergoing a renaissance.
Jedburgh provided the perfect spot for a new royal foundation for David in several ways. It was his aim to reorganize the Church in Scotland and, in doing so, loosen the grip of the Archbishop of York who claimed authority over it. With Jedburgh, David was also able to demonstrate that he was in a position to build on a grand scale, right on England's threshold.
A peaceful spot high up on the banks of the Jed Water was chosen to establish this important religious house. The location, however, proved to be a trial for the community of Augustinian canons who eventually resided there. The southernmost of Scotland's border abbeys, Jedburgh was the first target for every English army crossing this part of the Borders throughout the centuries.
Jedburgh's status was elevated to that of an abbey before 1154, and it increased in wealth and authority. Eventually it came to have priories of Blantyre in Lanarkshire, Canonbie in Dumfrieeshire, and Restenneth in Angus dependent upon it.
In 1285 Alexander III married his second queen, Yolande de Dreux, in the abbey at Jedburgh. Legend tells that a ghostly figure appeared before the congregation and foretold the king's death. Alexander died the following year. It was his death, followed by the death of his young granddaughter and heir, Margaret (the Maid of Scotland), in 1290, and the short reign of John Balliol (1292-1296) that formed the prelude to the war of independence with England.
The remains of the church are all that survive, due to the continued use by the parishioners between the period of the Reformation in 1560 to 1875.
View more images of Jedburgh Abbey at Travels in the UK: Jedburgh Abbey Photo Gallery.
Next page: Lanercost Priory
Also on Mostly Medieval:
Downloads

Backgrounds, letters, avatars and more for websites, blogs, and newsletters. Desktop wallpapers for personal use.
In the Downloads section.

Travels in the UK

Travelogue of a journey through northern England and Southern Scotland. Visits to castles, cathedrals, ruins and more.
In the Travels in the UK section.

The Merkat Cross

Books for all ages, movies, costumes for Halloween and Ren Faire, music and more – all related to the Middle Ages.
In the The Merkat Cross section.